Urban Catalyst hosted its first groundbreaking ceremony for
Paseo
- one of seven projects that is part of more than $700 million in planned development for the Fund.

What was once the lobby of Camera 12 movie complex was filled with government officials and business leaders to celebrate (with gold-painted sledgehammers!) one more step towards revitalizing downtown San Jose.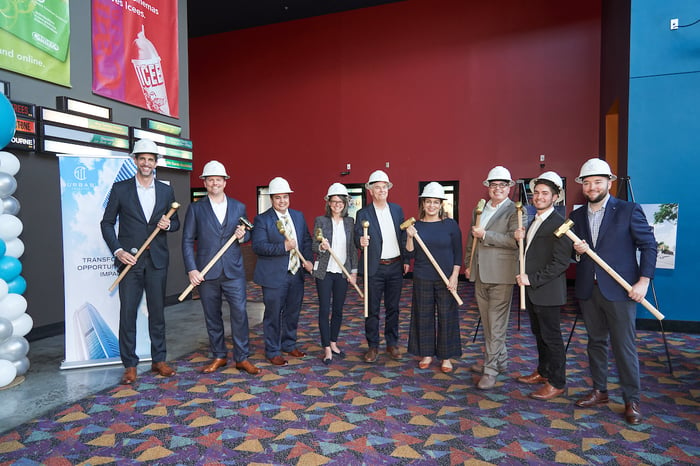 "When we break ground here, we are really breaking ground on opportunity. And that opportunity is going to make an impact on our residents because it's going to create jobs, it's going to create some vibrancy here... and it's really going to bring it all together," said Councilmember Sylvia Arenas.
Paseo will be developed into 15,000 square feet of retail on the ground floor and 73,000 square feet of offices, marking a complete makeover for the multi-level site. Located steps from the VTA Light Rail, this transit-friendly property is also near the Fairmont Hotel, the Hammer Theater, the popular SoFA district, San Jose State University, and the Fairmont Plaza.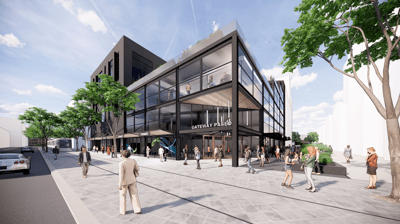 Councilmember Johnny Khamis remarked, "I'm so happy that Urban Catalyst decided to set up shop here in the City of San Jose. I remember cutting the ribbon on your office space not too long ago and you're already investing money, already making our city a more vibrant place to be."

There is an array of tech companies, as well as some top-flight restaurants, that have expressed interest in the prime property. Jeff Arrillaga, a vice chairman with commercial real estate firm Newmark Knight Frank, has begun to scout for office tenants. Nick Goddard, a senior vice president with Colliers International, a commercial real estate firm, is seeking retail tenants.

"We want to see activation here," Erik Hayden, Founder of Urban Catalyst, told the crowd. "We want to see coffee shops, dining, [and] people buying flowers. We want to make improvements, block by block."

Interested in learning more about this project or other projects we have going on? Contact us today