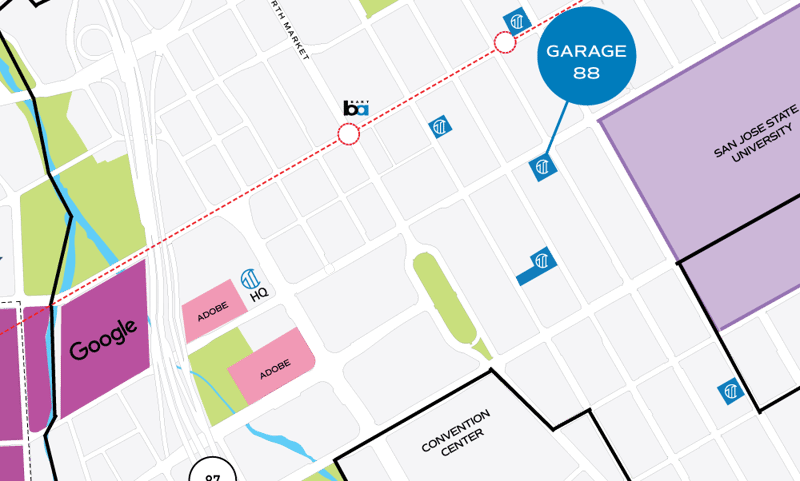 In May 2020, Urban Catalyst purchased Central Place Garage at 88 E. San Fernando St. ("Garage 88"), an existing parking structure that provides 330 parking spaces. This parking garage will support two of Urban Catalyst's development projects: Paseo and Fountain Alley Building. Both projects are office developments with ground floor retail. Garage 88 will be an incredible value add to these two development projects.
Fountain Alley and Paseo together will add 132,000 square feet of office space and 41,500 square feet of new retail space. This parking garage is a four-minute walk from Fountain Alley on 1st Street and three minutes from the Paseo on 2nd Street.
Erik said in a recent exclusive interview with Silicon Valley Business Journal that it's all part of creating exciting and accessible new downtown destinations.
We purchased Central Place Garage from JNL Parking for $4.1 million, representing a major cost-savings for Urban Catalyst. If we had to build an underground garage from scratch, construction could cost at least $65,000 per stall for a single level. Central Place Garage was a relative steal for $12,424 per space. Erik says: "it's the most inexpensive replacement cost I've ever had all my years as a developer!"
AmeriPark and Lanier Park will continue managing Central Place Garage until their lease expires in 2022. Once Fountain Alley and the Paseo are built and occupied, Urban Catalyst will set aside monthly parking passes for tenants, while the rest of the garage will remain open to the public.
To learn more about Central Place Garage's unique role in the past and future redevelopment of downtown San Jose, check out Erik's interview in this Silicon Valley Business Journal article.