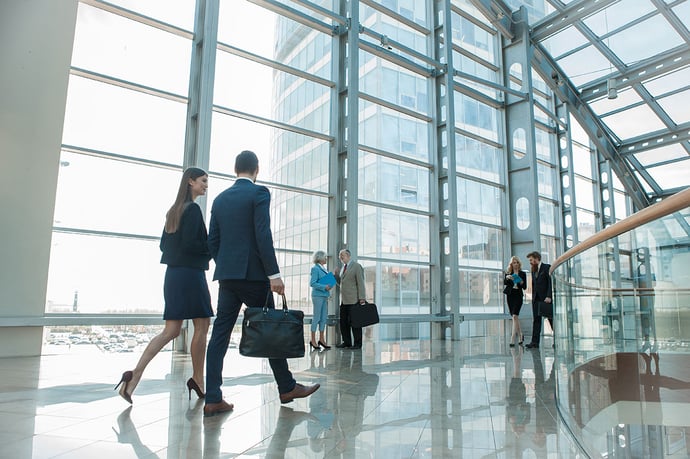 The question that I'm getting a lot these days is about the future of office space. This drawn-out pandemic work-from-home experiment has everyone wondering if/when/how employees will return to physical workplaces.
Office space is not dead. It will just look different in a post-COVID world.
In fact, some major players are placing big bets on office space. For instance, Amazon recently announced it's expanding physical offices in New York, Phoenix, San Diego, Denver, Detroit, and Dallas for 3,500 new corporate jobs. Facebook signed a huge office lease in a former main post office in Manhattan near Penn Station. It also bought REI's unused office headquarters near Seattle.
All this goes to show having physical offices is still top of mind for many corporations. Don't just take my word for it. Here's what some of the biggest companies are up to:
Netflix' Co-CEO Deems Remote Work 'a Pure Negative' - Reed Hastings spoke to the Wall Street Journal about how brainstorming and collaboration are much harder over video conference, and how he wants his workforce back in the office as soon as a COVID-19 vaccine is approved.
Bay Area Office Market May Fare Better Than Others – Globe St. interviewed Brent Carroll of KBS about the Bay Area's resilient commercial real estate market and its ability to survive recessions, thanks largely to the high concentration of tech talent and corporations. Carroll predicted companies will want more office space as a result of current health concerns.
Companies Start to Think Remote Work Isn't So Great – In this Wall Street Journal article, executives discussed the challenges remote working presents: projects take longer, collaboration is harder, and training new workers is a struggle.
Doubling down on office in San Jose – A 15-story office building in downtown San Jose sold in June for $131.83 million – about $575 per square foot. The Silicon Valley Business Journal reported that's the highest price per square foot paid for a Class A office building in downtown this year!
Google is moving forward with office development despite COVID-19 – Mountain View approved Google's 1.3-million-square-foot development on Landings Drive in July.
Future of the office, according to global real estate execs – CBRE Research asked 126 senior-level global real estate executives how the design and use of office space could change after this year. CBRE executive Jefrey Henderson summed up the findings: "The physical office will remain important. That's the biggest takeaway."
PwC U.S. Remote Work survey – In this PwC survey of executives and office workers, more than half said they anticipate a future increase in office space because of physical distance requirements and the need for collaboration areas.
I anticipate that there will be a lot more written about the future of office in the weeks and months ahead. Follow me on LinkedIn as I will be sharing weekly updates with you.

Contact us today to learn more about our projects in downtown San Jose!
The statements, views, and opinions expressed herein are those of the individuals making the statements and do not necessarily reflect the official policy or position of Urban Catalyst Manager LLC or any investment sponsored by Urban Catalyst LLC and are provided for informational purposes only and are not intended to be, nor should be construed or used as financial, legal, tax or investment advice, nor should this information be used or considered as an offer to sell or a solicitation of any offer to buy any interest in Urban Catalyst Opportunity Fund I LLC (the "Fund"), an investment sponsored by Urban Catalyst LLC (the "Sponsor").
THIS MATERIAL IS NEITHER AN OFFER TO SELL NOR A SOLICITATION OF AN OFFER TO BUY SECURITIES. THE OFFERING AND SALE OF INTERESTS IN URBAN CATALYST OPPORTUNITY FUND I LLC ("URBAN") IS BEING MADE ONLY BY DELIVERY OF URBAN'S PRIVATE PLACEMENT MEMORANDUM ("PPM"), CERTAIN ORGANIZATIONAL DOCUMENTS, SUBSCRIPTION AGREEMENT AND CERTAIN OTHER INFORMATION TO BE MADE AVAILABLE TO INVESTORS ("OPERATIVE DOCUMENTS") BY URBAN'S SPONSOR. ONLY ACCREDITED INVESTORS CAN INVEST. PAST PERFORMANCE IS NOT A GUARANTEE OF FUTURE RESULTS. INVESTMENTS IN SECURITIES ARE SPECULATIVE, INVOLVE A HIGH DEGREE OF RISK, AND ARE NOT SUITABLE FOR ALL INVESTORS. PROSPECTIVE INVESTORS SHOULD CONSULT THEIR OWN TAX AND LEGAL PROFESSIONALS PRIOR TO MAKING INVESTMENT DECISIONS.