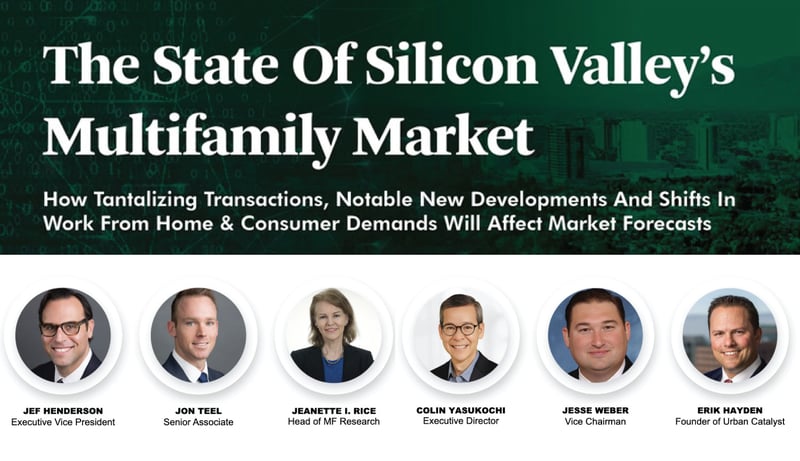 I was recently invited to be a panelist for a CBRE webinar focused on the state of the Silicon Valley multifamily market, moderated by CBRE's Executive Vice President, Jef Henderson.
Together with a fantastic lineup of leading commercial real estate professionals, we examined Silicon Valley rents, consumer demands, market forecasts and more.
I spoke in-depth about the real estate development outlook in downtown San Jose, and why Urban Catalyst as an Opportunity Zone Fund is in the right place at the right time to revitalize this amazing community. The main takeaway? Commercial real estate investing in Silicon Valley is well worth considering. Especially in today's economy, many people see San Jose as the flight to safety.
Here's what other panelists said about Silicon Valley's multifamily market:
Jon Teel, Senior Associate, CBRE: Rents are expected to go down in San Jose in 2020 but are expected to recover. This kind of bounceback is consistent with previous downturns in Silicon Valley's real estate market.


Jeannette Rice, Head of Multifamily Research, CBRE: The recession brought on by COVID-19 is different in that construction is not slowing down yet. While Silicon Valley has experienced multifamily rent decline more than other areas in the country, it won't be the case long-term post-pandemic.


Colin Yasukochi, Tech Industry RE Expert, CBRE: The tech industry has proven to be resilient time and time again, and it's going to rebound just as it has post-dot-com and post-financial crisis. Because the Bay Area has the most innovative tech talent workforce in the world, there will be a new cycle of job growth and more real estate to manage.


Jesse Weber, RE Finance Specialist, CBRE: A positive during COVID-19 is that the financial markets driven by lower interest rates are responsible for maintaining the growth in the multifamily sector. Many experts are confident there will be significant amounts of financing capital available to developers and investors alike who are looking to refinance or make acquisitions.
Have questions about investing in downtown San Jose real estate? Contact us to learn more.