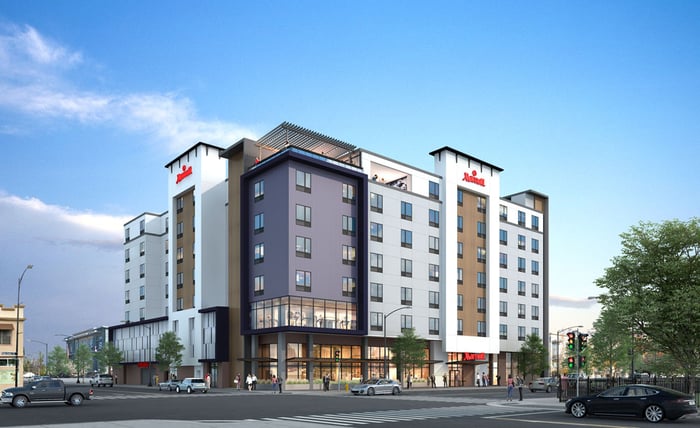 We know this year has been nothing short of challenging, but signs of recovery are emerging for the hotel industry. As a matter of fact, general hotel occupancy rates across the U.S. are slowly rising from their pandemic lows and nearing 50%.
Extended-stay hotels, in particular, outperformed the overall hotel industry for the first half of 2020, according to The Highland Group's 2020 Mid-Year U.S. Extended-Stay Hotel Market Report.
The extended-stay hotel market is considered one of the strongest and fastest-growing segments of the hospitality industry because it isn't as volatile to fluctuations in the economy.
Per STR data's sampling of the first 28 days of March, extended stay hotels in the U.S. held a nearly 72% occupancy rate compared to the 42% hotel industry average. That's aligned with JLL's Hotel Investment Outlook 2020 report, which says overall U.S. hotel demand will increase 1.6% in 2020, while select-service and extended-stay hotel demand is anticipated to outperform by growing 2.7% this year.
We keep all of this in mind at Urban Catalyst as we build for the future of San Jose. As we move closer to breaking ground on multiple projects in 2021, we are increasingly excited about one in particular: Keystone.
As a part of the Marriott TownePlace Suites family, Keystone will fill a critical need for business and leisure travel lodgings in the nation's tech capital. This new select-service, extended-stay hotel with 175 suites will be located just steps from Google's planned mega-campus and Adobe's global headquarters. It is also just steps from the SAP Center arena (a.k.a. "The Shark Tank" for our National Hockey League home team) and Diridon Station, a major transportation hub in Silicon Valley.
Not only that, Keystone will also generate a significant amount of transient occupancy tax dollars for the City of San Jose, a majority of which go directly into the Downtown Core to support the Arts and infrastructure within walking distance of the Keystone Project.
Learn more about our partnership with Marriott and our six other anchor projects here.
The statements, views, and opinions expressed herein are those of the individuals making the statements and do not necessarily reflect the official policy or position of Urban Catalyst Manager LLC or any investment sponsored by Urban Catalyst LLC and are provided for informational purposes only and are not intended to be, nor should be construed or used as financial, legal, tax or investment advice, nor should this information be used or considered as an offer to sell or a solicitation of any offer to buy any interest in Urban Catalyst Opportunity Fund I LLC (the "Fund"), an investment sponsored by Urban Catalyst LLC (the "Sponsor").
THIS MATERIAL IS NEITHER AN OFFER TO SELL NOR A SOLICITATION OF AN OFFER TO BUY SECURITIES. THE OFFERING AND SALE OF INTERESTS IN URBAN CATALYST OPPORTUNITY FUND I LLC ("URBAN") IS BEING MADE ONLY BY DELIVERY OF URBAN'S PRIVATE PLACEMENT MEMORANDUM ("PPM"), CERTAIN ORGANIZATIONAL DOCUMENTS, SUBSCRIPTION AGREEMENT AND CERTAIN OTHER INFORMATION TO BE MADE AVAILABLE TO INVESTORS ("OPERATIVE DOCUMENTS") BY URBAN'S SPONSOR. ONLY ACCREDITED INVESTORS CAN INVEST. PAST PERFORMANCE IS NOT A GUARANTEE OF FUTURE RESULTS. INVESTMENTS IN SECURITIES ARE SPECULATIVE, INVOLVE A HIGH DEGREE OF RISK, AND ARE NOT SUITABLE FOR ALL INVESTORS. PROSPECTIVE INVESTORS SHOULD CONSULT THEIR OWN TAX AND LEGAL PROFESSIONALS PRIOR TO MAKING INVESTMENT DECISIONS.