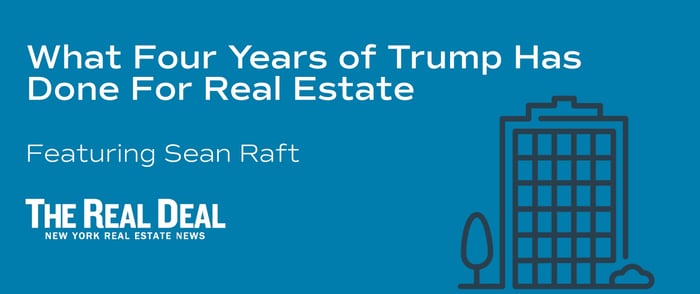 As part of its 2020 election coverage, The Real Deal recently sat down with Urban Catalyst Chief Administrative Officer, Sean Raft, to discuss the Presidential Election's impact on Opportunity Zone Fund Investors.
As a member of the National Working Group that advises the U.S. Treasury and IRS on any ongoing Opportunity Zone Fund Program clarifications, Sean has insider access into what the federal government thinks about the program.
Sean weighed in on the evolution of the Opportunity Zone program over the last three years and shared insights on investor outlook.
Overall, the program has been an overwhelming success attracting over $12 billion worth of investment to date, all used to create economic and social benefits in lower-income areas.
Outside of additional reporting requirements, Sean doesn't anticipate any substantial changes to the overall program if Biden wins.
Be sure to read the full article to learn more!
Urban Catalyst fund closes on December 30. You can qualify for bonus shares if you invest sooner. Contact us to learn more.
The statements, views, and opinions expressed herein are those of the individuals making the statements and do not necessarily reflect the official policy or position of Urban Catalyst Manager LLC or any investment sponsored by Urban Catalyst LLC and are provided for informational purposes only and are not intended to be, nor should be construed or used as financial, legal, tax or investment advice, nor should this information be used or considered as an offer to sell or a solicitation of any offer to buy any interest in Urban Catalyst Opportunity Fund I LLC (the "Fund"), an investment sponsored by Urban Catalyst LLC (the "Sponsor").
THIS MATERIAL IS NEITHER AN OFFER TO SELL NOR A SOLICITATION OF AN OFFER TO BUY SECURITIES. THE OFFERING AND SALE OF INTERESTS IN URBAN CATALYST OPPORTUNITY FUND I LLC ("URBAN") IS BEING MADE ONLY BY DELIVERY OF URBAN'S PRIVATE PLACEMENT MEMORANDUM ("PPM"), CERTAIN ORGANIZATIONAL DOCUMENTS, SUBSCRIPTION AGREEMENT AND CERTAIN OTHER INFORMATION TO BE MADE AVAILABLE TO INVESTORS ("OPERATIVE DOCUMENTS") BY URBAN'S SPONSOR. ONLY ACCREDITED INVESTORS CAN INVEST. PAST PERFORMANCE IS NOT A GUARANTEE OF FUTURE RESULTS. INVESTMENTS IN SECURITIES ARE SPECULATIVE, INVOLVE A HIGH DEGREE OF RISK, AND ARE NOT SUITABLE FOR ALL INVESTORS. PROSPECTIVE INVESTORS SHOULD CONSULT THEIR OWN TAX AND LEGAL PROFESSIONALS PRIOR TO MAKING INVESTMENT DECISIONS.