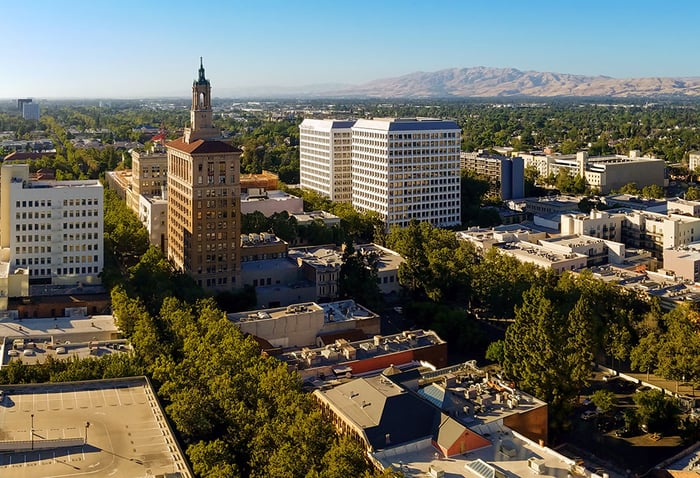 Recent land purchases in San Jose by the likes of Amazon, Google and other tech companies further support what we've been saying all along; San Jose is a flight to safety for investors big and small.
According to CBRE, Silicon Valley is "the tech market that is most resilient and poised for future growth." It goes without saying that Urban Catalyst sees the potential for revitalization in downtown San Jose. After all, it's home to all seven of our projects.
There are more reasons than one why San Jose is an attractive choice for the next tech hub. As Northern California's largest city, it has a solid transit infrastructure already in place. That, paired with a local government that is business-friendly, San Jose is the only true urban environment in Silicon Valley.
It's important to note that the Silicon Valley job engine continues to fuel San Jose's growth, there is a massive demand for more real estate as more tech companies move southward to San Jose. Here's the latest on what's happening in San Jose in recent months:
Google is pressing ahead at full steam with the development of its mixed-use, 80-acre campus in downtown San Jose. As part of the expansion, it will add 7.3 million square feet of offices, 4,000 homes, shops, restaurants, a hotel and more near downtown San Jose's Diridon Station.
Amazon recently acquired 17 acres of land it plans to redevelop into a new package delivery facility, according to the Silicon Valley Business Journal. This comes several months after Amazon leased a 77,608-square-foot warehouse building, also in San Jose.
As reported by a Business Journal analysis, San Jose's current roster of economic projects account for nearly 7.46 million square feet of new commercial space, and more than 1,000 new residential units. Think office (including tech), student housing, multifamily, mixed-use and more.
And that's just the tip of the iceberg!
Urban Catalyst is happy to see all this progress as a validation point in the real estate investment ecosystem of San Jose. We're all hands on deck and can't wait to see what 2021 has in store!
Just a reminder that if you invest with the Urban Catalyst Opportunity Zone Fund between now and October 31, you'll get bonus units of 1.5%. Don't miss this chance!
The statements, views, and opinions expressed herein are those of the individuals making the statements and do not necessarily reflect the official policy or position of Urban Catalyst Manager LLC or any investment sponsored by Urban Catalyst LLC and are provided for informational purposes only and are not intended to be, nor should be construed or used as financial, legal, tax or investment advice, nor should this information be used or considered as an offer to sell or a solicitation of any offer to buy any interest in Urban Catalyst Opportunity Fund I LLC (the "Fund"), an investment sponsored by Urban Catalyst LLC (the "Sponsor").
THIS MATERIAL IS NEITHER AN OFFER TO SELL NOR A SOLICITATION OF AN OFFER TO BUY SECURITIES. THE OFFERING AND SALE OF INTERESTS IN URBAN CATALYST OPPORTUNITY FUND I LLC ("URBAN") IS BEING MADE ONLY BY DELIVERY OF URBAN'S PRIVATE PLACEMENT MEMORANDUM ("PPM"), CERTAIN ORGANIZATIONAL DOCUMENTS, SUBSCRIPTION AGREEMENT AND CERTAIN OTHER INFORMATION TO BE MADE AVAILABLE TO INVESTORS ("OPERATIVE DOCUMENTS") BY URBAN'S SPONSOR. ONLY ACCREDITED INVESTORS CAN INVEST. PAST PERFORMANCE IS NOT A GUARANTEE OF FUTURE RESULTS. INVESTMENTS IN SECURITIES ARE SPECULATIVE, INVOLVE A HIGH DEGREE OF RISK, AND ARE NOT SUITABLE FOR ALL INVESTORS. PROSPECTIVE INVESTORS SHOULD CONSULT THEIR OWN TAX AND LEGAL PROFESSIONALS PRIOR TO MAKING INVESTMENT DECISIONS.