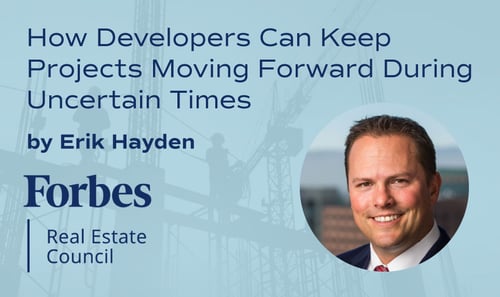 While many developers opt for a wait-and-see approach during market volatility, it isn't always the best course of action.
Urban Catalyst Founder Erik Hayden set out to discuss this issue in his recent article for Forbes, titled "How Developers Can Keep Projects Moving Forward During Uncertain Times."
Turns out, real estate developers don't necessarily need to slow down; in some cases, Erik says, it's better to speed up.
Urban Catalyst partners know a thing or two about moving projects forward during economic downturns. After all, they've successfully developed ground-up projects worth billions of dollars in Silicon Valley over the last two decades including during the 2008 Great Recession.
Read Erik's full article in Forbes for his insights on why it's important to:
Learn from the past
Look forward
Be first to market
Diversify your portfolio
Be prepared
Our fund closes fundraising on December 30. Invest before November 30 to get bonus shares 1.0%. Act now because bonus shares disappear after that!
The statements, views, and opinions expressed herein are those of the individuals making the statements and do not necessarily reflect the official policy or position of Urban Catalyst Manager LLC or any investment sponsored by Urban Catalyst LLC and are provided for informational purposes only and are not intended to be, nor should be construed or used as financial, legal, tax or investment advice, nor should this information be used or considered as an offer to sell or a solicitation of any offer to buy any interest in Urban Catalyst Opportunity Fund I LLC (the "Fund"), an investment sponsored by Urban Catalyst LLC (the "Sponsor").
THIS MATERIAL IS NEITHER AN OFFER TO SELL NOR A SOLICITATION OF AN OFFER TO BUY SECURITIES. THE OFFERING AND SALE OF INTERESTS IN URBAN CATALYST OPPORTUNITY FUND I LLC ("URBAN") IS BEING MADE ONLY BY DELIVERY OF URBAN'S PRIVATE PLACEMENT MEMORANDUM ("PPM"), CERTAIN ORGANIZATIONAL DOCUMENTS, SUBSCRIPTION AGREEMENT AND CERTAIN OTHER INFORMATION TO BE MADE AVAILABLE TO INVESTORS ("OPERATIVE DOCUMENTS") BY URBAN'S SPONSOR. ONLY ACCREDITED INVESTORS CAN INVEST. PAST PERFORMANCE IS NOT A GUARANTEE OF FUTURE RESULTS. INVESTMENTS IN SECURITIES ARE SPECULATIVE, INVOLVE A HIGH DEGREE OF RISK, AND ARE NOT SUITABLE FOR ALL INVESTORS. PROSPECTIVE INVESTORS SHOULD CONSULT THEIR OWN TAX AND LEGAL PROFESSIONALS PRIOR TO MAKING INVESTMENT DECISIONS.