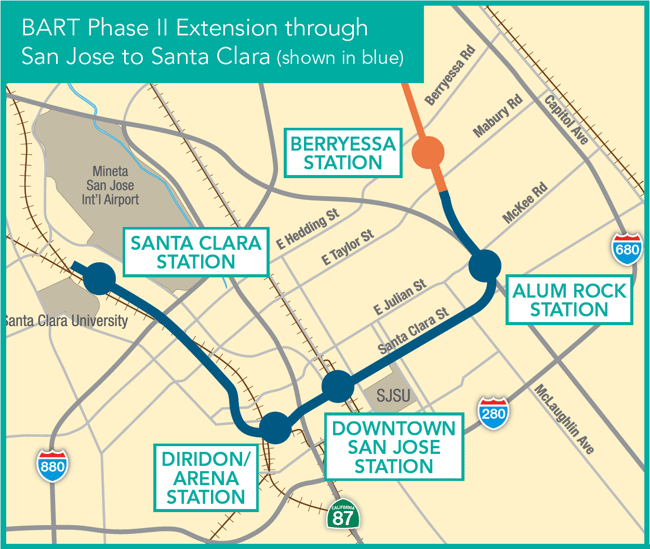 BART's extension into downtown San Jose was just put on the fast track with the announcement that the project will be receiving $125 million in federal funds. With the completion of Phase I beginning at Warm Springs Station in Fremont and ending in the Berryessa area, this much-anticipated Phase 2 expansion will add 6.5 miles of track with stations set in Alum Rock/28th Street, Downtown San Jose, Diridon, and Santa Clara.
"In an area known for congestion VTA projects this extension will serve 52,000 passengers a day and removing 27 million miles that would have been driven in private vehicles." said K. Jane Williams, Acting Federal Transit Administrator. With construction starting as soon as two years and a completion date of 2026, the entire Bay Area will finally be connected to the heart of Silicon Valley. San Jose has been waiting for this connection for 60 years and it is officially in motion.
This is exciting news for the downtown core, as physical transit and infrastructure are key to urban success and exceptional projects. All five of Urban Catalyst's recent projects are in walking distance to the BART stops. The Fountain Alley Building and the Icon will be one block away from the new Downtown Bart station. While our hotel project The Keystone, and our newly announced joint venture projects will be walking distance to the Diridon BART entrance. Our projects are the definition of transit-oriented development and will benefit from the easy access to the rest of the Bay.
Being involved as early advocates of the BART expansion with the city of San Jose and VTA, we knew of these transportation plans and it helped us focus on building opportunities in proximity to the proposed stops. This was an important insight for us to highlight how San Jose is truly growing into an urban community by attracting more individuals who will have easier access to the downtown core and its amenities.
Want to learn more about investing in San Jose Opportunity Zones? Contact Us today.