NES Webinar Key Takeaways: "Navigating a New Era in Opportunity Zones"
by Angela S. Hwang, on Jun 23, 2020 10:44:22 AM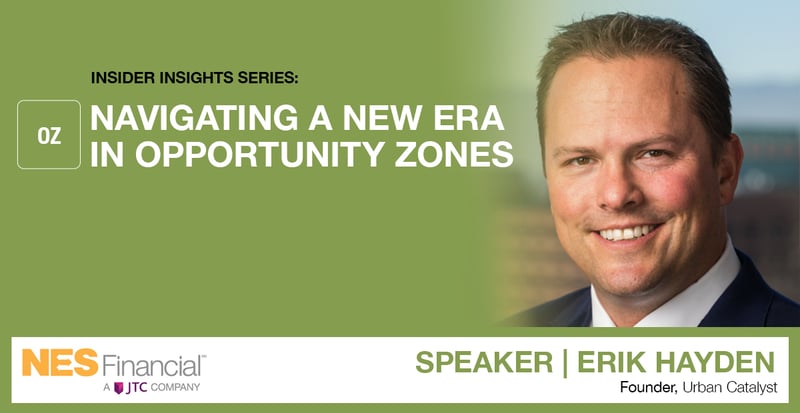 Last week, more than 700 people tuned into a webinar, hosted by NES, to hear what Urban Catalyst Founder Erik Hayden and other leading OZ industry experts had to say. Moderated by Reid Thomas, Chief Revenue Officer and Managing Director of NES, Erik joined a panel of fellow industry experts, which included Rachel Reilly, Director of Impact Strategy at Economic Innovation Group, Chris Montgomery, Partner at Four Points Funding, and Emilio Miguel, Regional Head of Americas at JTC Group.
The discussion centered around how Opportunity Zones will bring a positive economic change, create jobs and revitalize distressed communities around the country. The webinar also covered pandemic-related changes on OZ rules and timelines, offered both urban and rural OZ perspectives and most importantly, how OZ can be a strong platform for equitable recovery for distressed communities.
The response to this webinar was astounding. It goes to show the growing interest in OZs as an impactful investment choice during our current economic climate and how OZ leaders are uniquely positioned to be agents of the economic recovery.
Erik talked about:
Urban Catalyst's mission to provide a profitable investment opportunity for investors while also developing projects in downtown San Jose that the community truly wants and needs.

Urban Catalyst's role in addressing San Jose State University's dire student housing crisis with The Mark (800 student beds).

The City of San Jose's efficient planning and permitting department, which helped Urban Catalyst stick to its development timeline, even during shelter-in-place.
...and much more. Check out the full webinar here!
Interested in learning more? Contact us today.