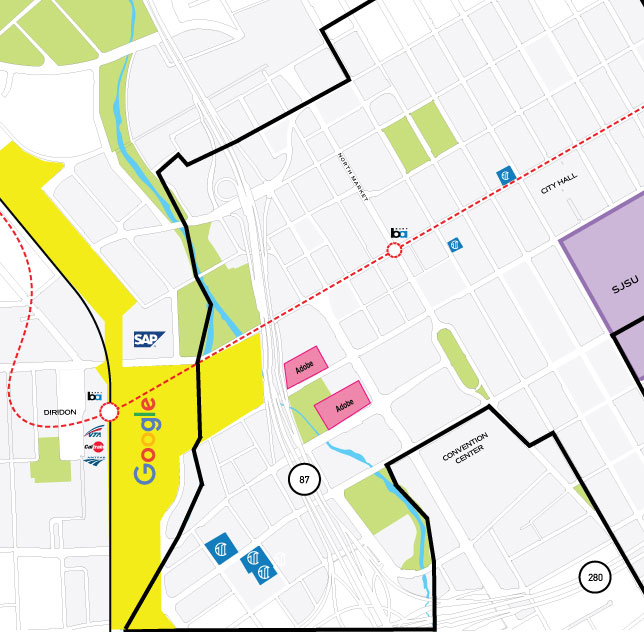 Over the last decade downtown San Jose has had a groundswell of investment and development, and with Google's plans for their San Jose Transit Village revealed this month, it is only continuing to increase in pace. This makes it more obvious that Google isn't the cause of the so-called Google Effect, rather Google IS the effect, of solid market fundamentals and of people starting to realize downtown San Jose is a good investment opportunity. Urban Catalyst has been on the ground floor and this spurred the reasoning to start our fund. With San Jose's built-in infrastructure—an international airport, downtown university, freeway access, wide streets, public transportation and picture-perfect weather— and the Silicon Valley job engine, the city's downtown is a prime place for development.
With the announcement of Google jumping on the San Jose bandwagon, we are optimistically excited for the potential of what is to come as we are rapidly advancing our holistic strategy to turn opportunity into impact while remaining focused on being a positive catalyst in the community. Urban Catalyst now has three projects within 200 feet of the new Google campus. Currently one of the largest developers and landowners in downtown San Jose, we currently have five acquisitions in the downtown area, and are excited for our properties to play off each other and the Google campus, boosting the downtown San Jose economy and revitalizing the community.
This is just the beginning of the Google effect, as we are now seeing a domino effect of more developers targeting properties around the planned village, spiking a larger boom in downtown San Jose development and bringing more opportunity to our doorstep. Google may be the effect, but it's clear Google is also going to have its own effect. An effect we look forward to being a part of as we transform downtown San Jose.
Want to learn more about learning more about investing in opportunity zones and want to take advantage of the 15% clause before the end of the year? Contact us today.