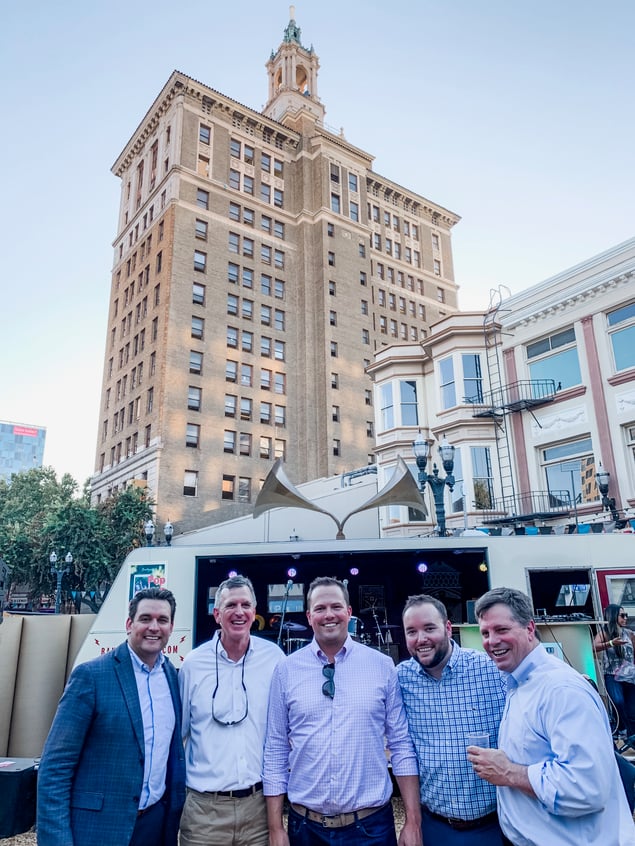 A pop-up garden that opened in August, Backyard San Jose will be hosting more than 200 events next to Fountain Alley in downtown San Jose through the end of October. The We Company, a short-term real estate property management and development company, opened this game-changer in the lot right next to our Fountain Alley project located at 26 and 30 South 1st Street. One of many exciting Urban Catalyst projects, by early 2021, this property will feature 73,000 square feet of office space and 14,000 square feet of ground-level retail space, as well as a rooftop bar, restaurant, and fountain, while prioritizing the incorporation of the adjacent historic building.
But for now, through the end October at least, Backyard San Jose has taken over the whole area and will feature fun outdoor events like movies, concerts, wellness activities like yoga and Zumba, and yard games for kids. Inside, there are rotating food trucks, as well as beer, wine, soft drinks and coffee for sale. A turnaround for Fountain Alley, with the advent of this new pop-up, the area has been transformed. By partnering with neighborhood entities passionate about the city including San Jose Made, Good Karma Artisan Ales, MACLA, SPUR and Local Color, The We Company has provided the space with a hip, local vibe that is making a big splash with the community.
To participate, download the app at the www.backyardsj.com website to find activities, and RSVP for events and activities. While Backyard San Jose only runs through the end of October, we strongly feel that continued support for the activation and revitalization of this historic district in the heart of downtown San Jose is a beautiful start to the permanent transformation our community deserves. Be on the lookout for our new mural "Urban Playground" by Lila Gemellos which is a sneak peek for our vision of downtown San Jose.