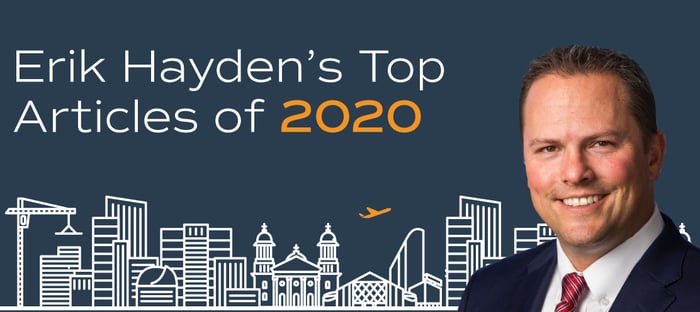 Throughout the course of this year, Urban Catalyst Founder Erik Hayden has been invited to write guest columns for several top-tier business and real estate publications. He has shared forward-looking tips for real estate developers and investors, provided commentary on the impacts of the pandemic on the future of the real estate landscape, and more.
In case you missed Erik's articles, we've compiled a few of his top bylines below:

Location Is Everything In Real Estate, Especially Opportunity Zones Erik discusses why location matters for Opportunity Zone investments and what investors should look for when choosing an Opportunity Zone Fund.



Five Tried-and-True Strategies to Keep Projects Moving During a Recession – Erik explores the challenges facing real estate developers and investors, and outlines a detailed course of action.


CRE Developers and Investors; Finding Safety During Uncertain Times – Erik breaks down the four fundamentals that the real estate community and investors alike must take into account when searching for safe havens during economic downturns.





Commercial Real Estate Outlook: We Must Plan Today To Build Tomorrow's Downtown – Erik unpacks how the economy will recover post-pandemic and how real estate developers are adapting.

By the way, our fund closes fundraising on December 30.
Contact us now to find out how you can start investing in Silicon Valley's leading Opportunity Zone Fund today.
The statements, views, and opinions expressed herein are those of the individuals making the statements and do not necessarily reflect the official policy or position of Urban Catalyst Manager LLC or any investment sponsored by Urban Catalyst LLC and are provided for informational purposes only and are not intended to be, nor should be construed or used as financial, legal, tax or investment advice, nor should this information be used or considered as an offer to sell or a solicitation of any offer to buy any interest in Urban Catalyst Opportunity Fund I LLC (the "Fund"), an investment sponsored by Urban Catalyst LLC (the "Sponsor").
THIS MATERIAL IS NEITHER AN OFFER TO SELL NOR A SOLICITATION OF AN OFFER TO BUY SECURITIES. THE OFFERING AND SALE OF INTERESTS IN URBAN CATALYST OPPORTUNITY FUND I LLC ("URBAN") IS BEING MADE ONLY BY DELIVERY OF URBAN'S PRIVATE PLACEMENT MEMORANDUM ("PPM"), CERTAIN ORGANIZATIONAL DOCUMENTS, SUBSCRIPTION AGREEMENT AND CERTAIN OTHER INFORMATION TO BE MADE AVAILABLE TO INVESTORS ("OPERATIVE DOCUMENTS") BY URBAN'S SPONSOR. ONLY ACCREDITED INVESTORS CAN INVEST. PAST PERFORMANCE IS NOT A GUARANTEE OF FUTURE RESULTS. INVESTMENTS IN SECURITIES ARE SPECULATIVE, INVOLVE A HIGH DEGREE OF RISK, AND ARE NOT SUITABLE FOR ALL INVESTORS. PROSPECTIVE INVESTORS SHOULD CONSULT THEIR OWN TAX AND LEGAL PROFESSIONALS PRIOR TO MAKING INVESTMENT DECISIONS.