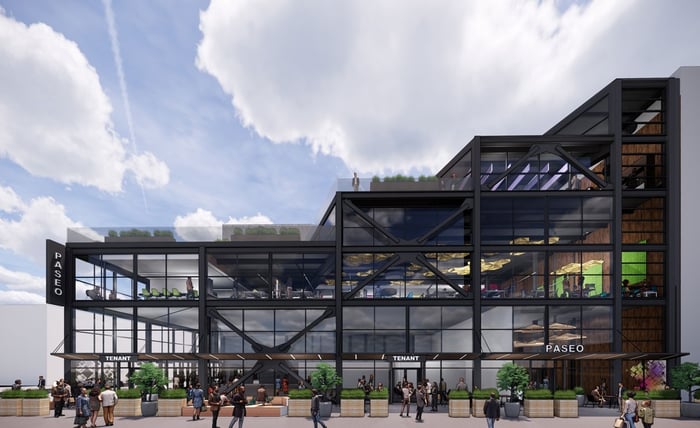 Image courtesy of HGA Architecture

Paseo's Site Development Permit was approved by the City of San Jose's Planning Department this week!
Paseo, a mixed-use property and the only non-ground up development project in our portfolio, had its groundbreaking in February, and will soon be going through the interior demolition following this approval. It is slated to be a transit-oriented property located between first and second street in downtown San Jose.
This exciting news was picked up by The Mercury News and the Silicon Valley Business Journal: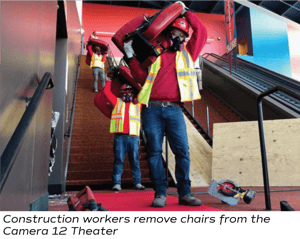 Urban Catalyst continues to make big strides in keeping up with the project milestones to improve our community. In fact, just last week, Delmas' construction documents were approved by the City of San Jose during the Planning Commission Hearing. We will be submitting building permit sets to the city in January 2021.
Big thanks to our development team who worked tirelessly with the Planning Department to move things forward.
Don't forget, our fund closes fundraising on December 30.
Contact us now to find out how you can start investing in Silicon Valley's leading Opportunity Zone Fund today.
The statements, views, and opinions expressed herein are those of the individuals making the statements and do not necessarily reflect the official policy or position of Urban Catalyst Manager LLC or any investment sponsored by Urban Catalyst LLC and are provided for informational purposes only and are not intended to be, nor should be construed or used as financial, legal, tax or investment advice, nor should this information be used or considered as an offer to sell or a solicitation of any offer to buy any interest in Urban Catalyst Opportunity Fund I LLC (the "Fund"), an investment sponsored by Urban Catalyst LLC (the "Sponsor").
THIS MATERIAL IS NEITHER AN OFFER TO SELL NOR A SOLICITATION OF AN OFFER TO BUY SECURITIES. THE OFFERING AND SALE OF INTERESTS IN URBAN CATALYST OPPORTUNITY FUND I LLC ("URBAN") IS BEING MADE ONLY BY DELIVERY OF URBAN'S PRIVATE PLACEMENT MEMORANDUM ("PPM"), CERTAIN ORGANIZATIONAL DOCUMENTS, SUBSCRIPTION AGREEMENT AND CERTAIN OTHER INFORMATION TO BE MADE AVAILABLE TO INVESTORS ("OPERATIVE DOCUMENTS") BY URBAN'S SPONSOR. ONLY ACCREDITED INVESTORS CAN INVEST. PAST PERFORMANCE IS NOT A GUARANTEE OF FUTURE RESULTS. INVESTMENTS IN SECURITIES ARE SPECULATIVE, INVOLVE A HIGH DEGREE OF RISK, AND ARE NOT SUITABLE FOR ALL INVESTORS. PROSPECTIVE INVESTORS SHOULD CONSULT THEIR OWN TAX AND LEGAL PROFESSIONALS PRIOR TO MAKING INVESTMENT DECISIONS.