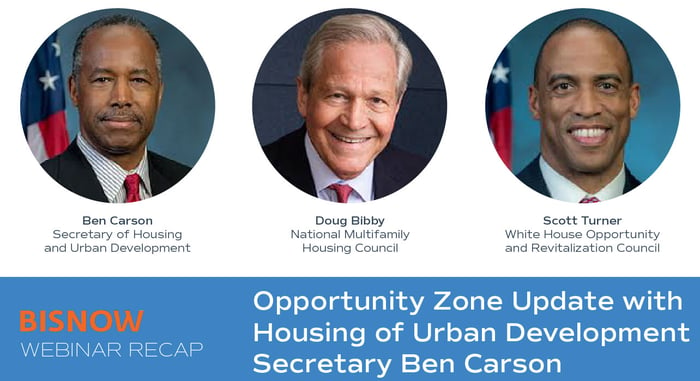 The July 9th Bisnow Webinar, "Opportunity Zone Update with HUD Secretary Ben Carson" discussed the Opportunity Zone Program's progress and future with key White House officials responsible for the program.
Secretary of Housing and Urban Development (HUD) Ben Carson led the discussion by calling the OZ program "one of the most important initiatives" created in recent years to help low-income communities.The continuous bipartisan support for the OZ Program helps makes the program successful, and Secretary Carson also noted it is needed now more than ever because of the pandemic's economic impacts.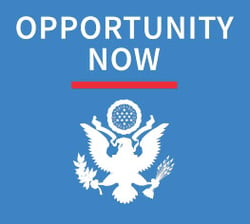 The webinar lineup included several White House officials who I've had the honor of connecting with during the past year: Alfonso Costa Jr., HUD's deputy chief of staff, and Ja'Ron Smith, White House Office of American Innovation deputy director. Also on the panel was Scott Turner, White House Opportunity and Revitalization Council executive director (he was a keynote speaker at the OZ Virtual Forum, which I also spoke on a panel discussing why location matters).
Here are a few highlights from their discussion:
The White House Opportunity and Revitalization Council compiled the

Opportunity Zone Best Practices Report

after visiting OZs in some 60 cities and holding more than 100 roundtables. Alfonso Costa Jr. said, "we've seen phenomenal examples throughout the country." Based on these visits and discussions, the Council has taken nearly 300 actions to support the OZ program's mission

.

The OZ program works best when state, local, and community leaders work together. For example, Alabama's governor signed

a law this June intended to motivate more OZ investors by giving them the same state-level capital gains tax benefits that they get at the federal level.




And I'll add an example from here in San Jose, where the developer-friendly Planning Department has streamlined the approval process that keeps our Urban Catalyst projects on schedule.

OZ programs are spurring revitalization in places that haven't seen investment in decades. There are projects to provide workforce housing, uplift existing businesses in need, and breathe new life into historic but abandoned buildings, and more. "We have seen some transformative stories,"

said Scott Turner.
Contact our Urban Catalyst team to learn what we're doing locally to make a positive impact in downtown San Jose.