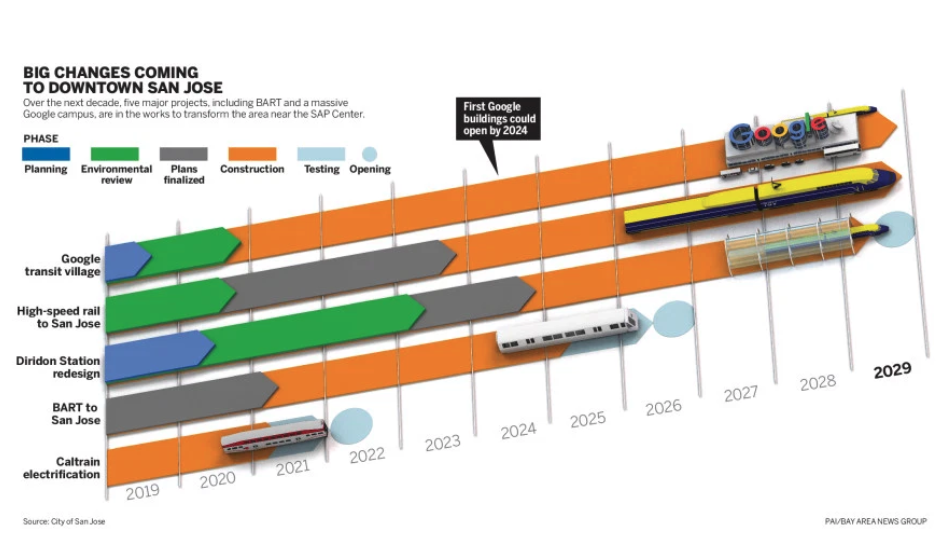 More offices. More housing. Google has officially submitted a site plan to build their 80-acre transit village project dubbed "Downtown West" and it's even bigger than previously announced. Consisting of up to 7.3 million square feet of office space, the project includes plans to enable retail, restaurants, cultural arts spaces and up to 1,100 hotel rooms—most of which will be for limited-term corporate accommodations. Google has also applied for 5,900 units of new housing, 900 more than previously described.
A game-changer for downtown, plans for Downtown West include transforming Diridon Station into a major multi-modal transit center, sealing the deal to making San Jose a local and regional mixed-use urban destination. The proposed development will have it all, including vibrant public spaces designed to encourage walking, biking, and transit use. Google also noted in its planning submittal that the project will blend in with existing downtown residential neighborhoods and business districts, melding the project with the rest of the urban core and enhancing the local area. San Jose is the urban center of Silicon Valley, the capital of the technology world, and our new distinctive architecture and civic spaces to reflect that spirit of innovation. People have referred to Google's Plans for San Jose as "The Google Effect." We see Google as the effect of the solid fundamentals of the existing San Jose real estate and tech market.
With three Urban Catalyst projects within 200 feet of the new Google campus these properties are located in an area that are in alignment with Opportunity Zones requirements and could benefit from the large presence of Google offices. Although we underwrite our projects in today's values, assuming for the possibility there is no Google, we are fortunate to be in the situation we are currently in. Urban Catalyst and all our investors are getting in on the ground floor which means we are positioned to acquire well regarded properties in the growing real estate market in downtown San Jose. And, with the likelihood of Google coming to downtown San Jose, this adds potential long-term value to our fund's portfolio holdings.

To learn more about investing with Urban Catalyst, click here.