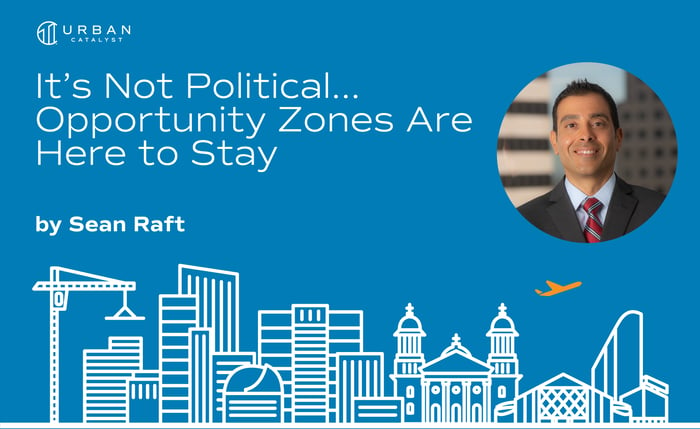 Urban Catalyst is proud to share that our Chief Administrative Officer, Sean Raft, has been published in The DI Wire!
In his article, It's Not Political…Opportunity Zones Are Here to Stay, Sean examines how the fate of the Opportunity Zone program could play out following the 2020 presidential election. Note, Sean is also a member of the Novogradac Opportunity Zones Working Group.
Sean writes, "...No matter who wins next month's election, it seems fair to say that the Opportunity Zone program signed into law by President Trump in 2017 will survive to play a critical role in strengthening local communities across the nation."
He also breaks down why now is the time to invest in an Opportunity Zone Fund regardless of who wins in November.
Read the full article here.
Have questions for Sean? Make sure you register for his webinar TOMORROW, as he's ready to answer any questions you have about what the Election means for Opportunity Zones!
The statements, views, and opinions expressed herein are those of the individuals making the statements and do not necessarily reflect the official policy or position of Urban Catalyst Manager LLC or any investment sponsored by Urban Catalyst LLC and are provided for informational purposes only and are not intended to be, nor should be construed or used as financial, legal, tax or investment advice, nor should this information be used or considered as an offer to sell or a solicitation of any offer to buy any interest in Urban Catalyst Opportunity Fund I LLC (the "Fund"), an investment sponsored by Urban Catalyst LLC (the "Sponsor").
THIS MATERIAL IS NEITHER AN OFFER TO SELL NOR A SOLICITATION OF AN OFFER TO BUY SECURITIES. THE OFFERING AND SALE OF INTERESTS IN URBAN CATALYST OPPORTUNITY FUND I LLC ("URBAN") IS BEING MADE ONLY BY DELIVERY OF URBAN'S PRIVATE PLACEMENT MEMORANDUM ("PPM"), CERTAIN ORGANIZATIONAL DOCUMENTS, SUBSCRIPTION AGREEMENT AND CERTAIN OTHER INFORMATION TO BE MADE AVAILABLE TO INVESTORS ("OPERATIVE DOCUMENTS") BY URBAN'S SPONSOR. ONLY ACCREDITED INVESTORS CAN INVEST. PAST PERFORMANCE IS NOT A GUARANTEE OF FUTURE RESULTS. INVESTMENTS IN SECURITIES ARE SPECULATIVE, INVOLVE A HIGH DEGREE OF RISK, AND ARE NOT SUITABLE FOR ALL INVESTORS. PROSPECTIVE INVESTORS SHOULD CONSULT THEIR OWN TAX AND LEGAL PROFESSIONALS PRIOR TO MAKING INVESTMENT DECISIONS.