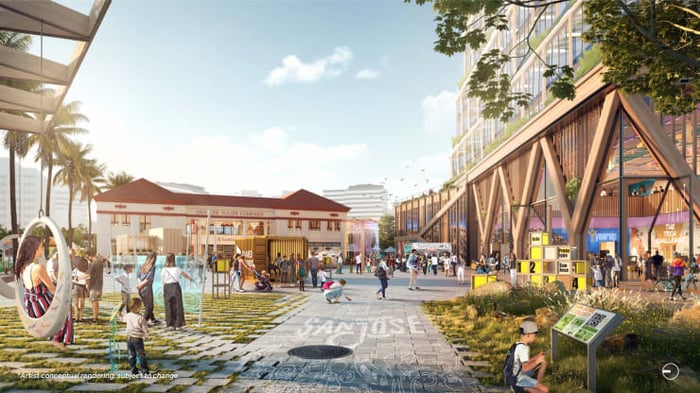 Image: Google LLC
At Urban Catalyst, we've been a champion for the revitalization of downtown San Jose. And we're not alone.
As we gear up to break ground in 2021 on our seven projects in downtown San Jose, Google has reached a major milestone in planning its massive downtown San Jose campus. As part of its expansion, Google will add 7.3 million square feet of offices, 4,000 homes, shops, restaurants, a hotel and more near downtown San Jose's Diridon Station.
In case you missed it, here's the latest on Google's downtown campus project:
From The Mercury News:
"A game-changing development that bids to reshape the west edges of the city's urban core while still blending in with adjacent communities. ...The Downtown West plan also underscores the tech behemoth's continued commitment to its San Jose plans at a time when businesses around the world are rethinking the future of office space amid the work-from-home era brought on by the coronavirus pandemic."
The Silicon Valley Business Journal also picked up the exciting news:
"The city of San Jose made both documents available for public review as part of the entitlement process for Google's 'Downtown West' project. The Mountain View-based search giant is proposing a massive development that includes up to 7.3 million square feet of gross commercial office space, up to 5,900 residential units, and up to 500,000 square feet of active uses."
Alexa Arena, Google's development director for San Jose, told the SVBJ that the team is excited about this next step:
"[The project] incorporates feedback from thousands of people over the last two years and provides another opportunity for community input," Arena said. "We continue to hear that housing and preserving affordability is a priority for San Jose, and our proposal offers more affordable housing, job pathways, and community spaces for San Joseans."
Google's resubmitted application accounts for new design standards and guidelines, check them out here.
Urban Catalyst is proud to be in the company of a growing roster of tech titans like Google in downtown San Jose. Several of our projects are being developed just a few yards away from the Downtown West project, and we couldn't be more thrilled to see this new development come to fruition!
The statements, views, and opinions expressed herein are those of the individuals making the statements and do not necessarily reflect the official policy or position of Urban Catalyst Manager LLC or any investment sponsored by Urban Catalyst LLC and are provided for informational purposes only and are not intended to be, nor should be construed or used as financial, legal, tax or investment advice, nor should this information be used or considered as an offer to sell or a solicitation of any offer to buy any interest in Urban Catalyst Opportunity Fund I LLC (the "Fund"), an investment sponsored by Urban Catalyst LLC (the "Sponsor").
THIS MATERIAL IS NEITHER AN OFFER TO SELL NOR A SOLICITATION OF AN OFFER TO BUY SECURITIES. THE OFFERING AND SALE OF INTERESTS IN URBAN CATALYST OPPORTUNITY FUND I LLC ("URBAN") IS BEING MADE ONLY BY DELIVERY OF URBAN'S PRIVATE PLACEMENT MEMORANDUM ("PPM"), CERTAIN ORGANIZATIONAL DOCUMENTS, SUBSCRIPTION AGREEMENT AND CERTAIN OTHER INFORMATION TO BE MADE AVAILABLE TO INVESTORS ("OPERATIVE DOCUMENTS") BY URBAN'S SPONSOR. ONLY ACCREDITED INVESTORS CAN INVEST. PAST PERFORMANCE IS NOT A GUARANTEE OF FUTURE RESULTS. INVESTMENTS IN SECURITIES ARE SPECULATIVE, INVOLVE A HIGH DEGREE OF RISK, AND ARE NOT SUITABLE FOR ALL INVESTORS. PROSPECTIVE INVESTORS SHOULD CONSULT THEIR OWN TAX AND LEGAL PROFESSIONALS PRIOR TO MAKING INVESTMENT DECISIONS.