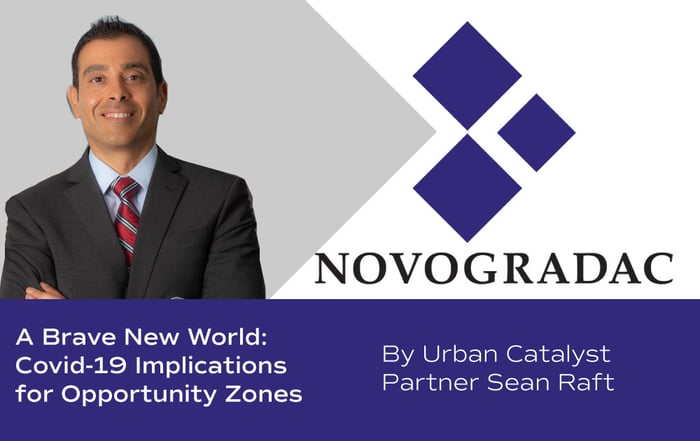 Sean Raft, our Chief Administrative Officer and Partner, was chosen to contribute to the Novogradac Journal of Tax Credits about COVID-19's potential economic impact on Opportunity Zones. Sean's outlook is based on detailed projections and his experience as a portfolio manager of a real estate trust with more than $100 million in assets.
Sean emphasized that "there will always be deals out there. The real test is, and has always been, knowing where to find the good ones and being brave enough to act on them." Sean's article discussed the following key points:
Prior to the pandemic, Urban Catalyst designed several contingency plans to calculate risks associated with a potential economic downturn, including a recession in the next 10 years.
Our (Urban Catalyst's) models predicted that Silicon Valley land values would remain relatively stable during periods of recession like they did for the partners' prior projects during the Great Recession of 2007-2009. (Sean noted that Urban Catalyst acquired the land for its projects before the pandemic.)

We also noticed that the construction costs dropped an average of 20% during the Great Recession. Assuming $500 million in hard project costs in our current portfolio, a similar decrease in construction costs could result in $100 million in savings.
Time is on OZ developers' side. For instance, Urban Catalyst's projects are slated to break ground in mid-2021, with rolling completion dates ranging from 2023 through 2026. That's several months or even years after the anticipated development of a COVID vaccine.
While the potential risks of real estate investment should be considered carefully these days, the cost of lost opportunity also should be weighed, Sean wrote, and with that careful consideration, Urban Catalyst continues to charge ahead.
"We remain steadfast in our belief that the demand for our products will be as just strong after COVID as it was before."
Read the full article here!
By the way, did you know Sean also serves on the Opportunity Zones (OZ) Working Group? Learn more about it here.
Have questions for Sean or interested in learning more? Contact us today.
The statements, views, and opinions expressed herein are those of the individuals making the statements and do not necessarily reflect the official policy or position of Urban Catalyst Manager LLC or any investment sponsored by Urban Catalyst LLC and are provided for informational purposes only and are not intended to be, nor should be construed or used as financial, legal, tax or investment advice, nor should this information be used or considered as an offer to sell or a solicitation of any offer to buy any interest in Urban Catalyst Opportunity Fund I LLC (the "Fund"), an investment sponsored by Urban Catalyst LLC (the "Sponsor").
THIS MATERIAL IS NEITHER AN OFFER TO SELL NOR A SOLICITATION OF AN OFFER TO BUY SECURITIES. THE OFFERING AND SALE OF INTERESTS IN URBAN CATALYST OPPORTUNITY FUND I LLC ("URBAN") IS BEING MADE ONLY BY DELIVERY OF URBAN'S PRIVATE PLACEMENT MEMORANDUM ("PPM"), CERTAIN ORGANIZATIONAL DOCUMENTS, SUBSCRIPTION AGREEMENT AND CERTAIN OTHER INFORMATION TO BE MADE AVAILABLE TO INVESTORS ("OPERATIVE DOCUMENTS") BY URBAN'S SPONSOR. ONLY ACCREDITED INVESTORS CAN INVEST. PAST PERFORMANCE IS NOT A GUARANTEE OF FUTURE RESULTS. INVESTMENTS IN SECURITIES ARE SPECULATIVE, INVOLVE A HIGH DEGREE OF RISK, AND ARE NOT SUITABLE FOR ALL INVESTORS. PROSPECTIVE INVESTORS SHOULD CONSULT THEIR OWN TAX AND LEGAL PROFESSIONALS PRIOR TO MAKING INVESTMENT DECISIONS.