Paul Ring, our head of development and one of Urban Catalyst's partners, recently participated in a panel discussion on Silicon Valley's construction, design, and development sectors. Some of you may recognize Paul's name from visiting our website, reading our blog posts, or shaking his hand at one of our company events. For those that don't, Paul's responses during Bisnow's "Silicon Valley State of the Market" event on April 27 are a window into how he thinks about development, construction, design, and other topics connected to our firm.
Contact us today if you want to learn more about the development projects Paul is overseeing in our Opportunity Zone Fund II (or if you have a different question you want to ask our sales team). Paul's answers have been edited for length and clarity.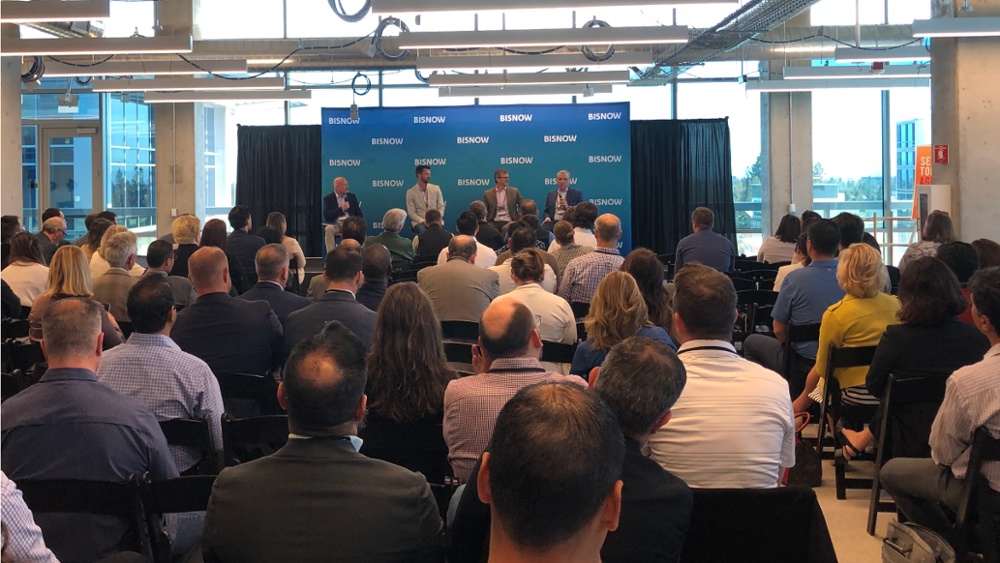 Paul Ring (second from right, wearing glasses) watches SummerHill Apartment Communities' Doug McDonald answer a question during Bisnow's "Silicon Valley State of the Market" event on April 27, 2023. To Paul's right are Truebeck Construction's Travis Schultz and Kier + Wright's Chuck McCallum. Photo credit: Bisnow's Samantha D'Angelo.
Paul's background
I'm the executive vice president of development and construction at Urban Catalyst. We've been raising capital nationwide and investing it in Downtown San Jose over the last four years. I call myself a recovering structural engineer; that was my original training.
How we're working with our design and construction partners to curb construction costs
We get our general contractor to the table early on. When we're competitively bidding out general contractors, for example, how many different concrete subcontractors understand the unique product we're doing? So, collaborating with your general contractor at the very beginning is essential.
One of the things we also like to do on our projects is create what I call an "owner's wishlist." That additional budget will generate some buffer because you've got a defined scope, such as upgrading existing flooring and finishing off different spaces. We keep those mapped on a list and let the whole team know that if we can come in and add these things back in during the project buyout, it's a little bit of a squishy area that you can use to keep costs down.
How our mechanical, electrical, and plumbing engineer can work with our design team during the development process
I've seen a lot of developers come in and tell their design teams, "We want you to evaluate these mechanical and electrical systems for us." And so you have a design team look at these systems so that they can price them out before deciding which direction to take. That whole process takes months to get a proper design you can bid out.
If you can know yourself in advance and have a consensus within your own ownership and design teams about the type of product you want from the beginning, you go into a kickoff meeting with those designers and say, "This is the product we want." They already know the leadership and direction, thus reducing the design time and saving costs.
Whether we're using specific technologies to streamline the development and construction process
From our production, it's mainly been on communications. I'll give a shout-out to the fact that we, as a population, have the ability to videoconference. I've been doing videoconferencing since 1993, when I used a 4,800 baud modem. The technology has been around for a long time, but now everybody, regardless of a person's technological ability, can figure out how to bring a camera into it. And it saves us time as a team; people aren't coming from one city to another, and we quickly move from one meeting to another.
Although videoconferencing doesn't eliminate the need for in-person meetings, it's a tool I've found incredibly helpful.
Where Paul sees Silicon Valley going over the next couple of years
You have to be optimistic about your outlook for Silicon Valley and California because there will be opportunities. There's going to be a tremendous amount of success in California over the next two years.
Top-image caption: Paul Ring (holding microphone) speaks at Bisnow's "Silicon Valley State of the Market" event on April 27, 2023. To Paul's left is SummerHill Apartment Communities' Doug McDonald. To Paul's right are Truebeck Construction's Travis Schultz and Kier + Wright's Chuck McCallum. Photo credit: Bisnow's Samantha D'Angelo.
Important Disclosures

The contents of this communication: (i) do not constitute an offer of securities or a solicitation of an offer to buy securities, (ii) offers can be made only by the confidential Private Placement Memorandum (the "PPM") which is available upon request, (iii) do not and cannot replace the PPM and is qualified in its entirety by the PPM, and (iv) may not be relied upon in making an investment decision related to any investment offering by an issuer, or any affiliate, or partner thereof ("Issuer").

All potential investors must read the PPM and no person may invest without acknowledging receipt and complete review of the PPM.

With respect to any performance levels outlined herein, these do not constitute a promise of performance, nor is there any assurance that the investment objectives of any program will be attained. All investments carry the risk of loss of some or all of the principal invested. Assumptions are more fully outlined in the Offering Documents/ PPM for the respective offering. Consult the PPM for investment conditions, risk factors, minimum requirements, fees and expenses and other pertinent information with respect to any investment.

These investment opportunities have not been registered under the Securities Act of 1933 and are being offered pursuant to an exemption therefrom and from applicable state securities laws. All offerings are intended only for accredited investors unless otherwise specified.

Past performance are no guarantee of future results. All information is subject to change. You should always consult a tax professional prior to investing. Investment offerings and investment decisions may only be made on the basis of a confidential private placement memorandum issued by Issuer, or one of its partner/issuers. Issuer does not warrant the accuracy or completeness of the information contained herein. Thank you for your cooperation.

Real Estate Risk Disclosure:
- There is no guarantee that any strategy will be successful or achieve investment objectives including, among other things, profits, distributions, tax benefits, exit strategy, etc.;
- Potential for property value loss – All real estate investments have the potential to lose value during the life of the investments;
- Change of tax status – The income stream and depreciation schedule for any investment property may affect the property owner's income bracket and/or tax status. An unfavorable tax ruling may cancel deferral of capital gains and result in immediate tax liabilities;
- Potential for foreclosure – All financed real estate investments have potential for foreclosure;
- Illiquidity – These assets are commonly offered through private placement offerings and are illiquid securities. There is no secondary market for these investments.
- Reduction or Elimination of Monthly Cash Flow Distributions – Like any investment in real estate, if a property unexpectedly loses tenants or sustains substantial damage, there is potential for suspension of cash flow distributions;
- Impact of fees/expenses – Costs associated with the transaction may impact investors' returns and may outweigh the tax benefits
- Stated tax benefits – Any stated tax benefits are not guaranteed and are subject to changes in the tax code. Speak to your tax professional prior to investing.
Opportunity Zone Disclosures

- Investing in opportunity zones is speculative. Opportunity zones are newly formed entities with no operating history. There is no assurance of investment return, property appreciation, or profits. The ability to resell the fund's underlying investment properties or businesses is not guaranteed. Investing in opportunity zone funds may involve a higher level of risk than investing in other established real estate offerings.
- Long-term investment. Opportunity zone funds have illiquid underlying investments that may not be easy to sell and the return of capital and realization of gains, if any, from an investment will generally occur only upon the partial or complete disposition or refinancing of such investments.
- Limited secondary market for redemption. Although secondary markets may provide a liquidity option in limited circumstances, the amount you will receive typically is discounted to current valuations.
- Difficult valuation assessment. The portfolio holdings in opportunity zone funds may be difficult to value because financial markets or exchanges do not usually quote or trade the holdings. As such, market prices for most of a fund's holdings will not be readily available.
- Capital call default consequences. Meeting capital calls to provide managers with the pledged capital is a contractual obligation of each investor. Failure to meet this requirement in a timely manner could elicit significant adverse consequences, including, without limitation, the forfeiture of your interest in the fund.
- Opportunity zone funds may use leverage in connection with certain investments or participate in investments with highly leveraged capital structures. Leverage involves a high degree of financial risk and may increase the exposure of such investments to factors such as rising interest rates, downturns in the economy or deterioration in the condition of the assets underlying such investments.
- Unregistered investment. As with other unregistered investments, the regulatory protections of the Investment Company Act of 1940 are not available with unregistered securities.
- It is possible, due to tax, regulatory, or investment decisions, that a fund, or its investors, are unable realize any tax benefits. You should evaluate the merits of the underlying investment and not solely invest in an opportunity zone fund for any potential tax advantage.
The above material cannot be altered, revised, and/or modified without the express written consent of Urban Catalyst.