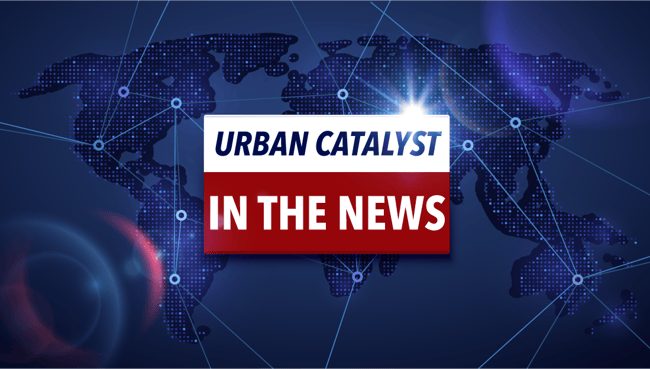 Urban Catalyst is thrilled to be featured in a variety of media outlets regarding our successful close of Fund I.
Each day, our team is striving to revitalize downtown San Jose into a vibrant place to live, work and visit. When our hard work and dedication are noticed by our community, it pushes us to aim for even greater standards of building quality projects.
Read more about our Fund I success featured in:

Urban Catalyst's first Opportunity Zone fund raises $131M for seven downtown projects

Real estate: Urban Catalyst launches downtown San Jose projects

Urban Catalyst Opportunity Zone Fund Raises $131M in First Fund, Continues Strong Growth in 2021

Urban Catalyst OZ Fund Concludes First Round of Fundraising

Urban Catalyst Raises $131M in First Opportunity Zone Fund

Urban Catalyst Closes $131M OZ Fund
Want to invest in one of the strongest real estate markets in the country and be part of our success? Contact our team to learn how you can get started.
The information contained in this post is provided for informational purposes only and is not intended to be, nor should it be construed or used as financial, legal, tax or investment advice, nor should this information be used or considered as an offer to sell or a solicitation of any offer to buy any interest in Urban Catalyst Opportunity Zone Fund II LLC (the "Fund"), an investment sponsored by Urban Catalyst Sponsor II LLC (the "Sponsor"). The offer and sale of interests in the Fund is being made only by delivery of the Fund's private placement memorandum, certain organizational documents, subscription agreement, and certain other information to be made available to investors by the Sponsor (the "Operative Documents"). A prospective investor may only invest in the Fund if such person is an accredited investor as defined in Rule 501 of Regulation D. Investing in the Fund will involve significant risks, including possible loss of such person's entire investment. An investment in the Fund will be illiquid, as there is no secondary market for the Fund's interests and none is expected to develop; and there will be substantial restrictions on transferring such interests. Accordingly, an investor may be required to maintain its interest in the Fund for an indefinite period of time. The interests in the real property to be acquired by the Fund are subject to leverage and their investment performance may be volatile. Investors should have the financial ability and willingness to accept the risk characteristics of the Fund. Prospective investors should make their own investigations and evaluations of the information contained in this post and the other Operative Documents. Each prospective investor should consult its own attorneys, business advisors and tax advisors as to legal, business, tax and related matters concerning the information contained in this post and the Operative Documents. This post does not take into account the particular investment objectives or financial circumstances of any specific person who may receive it. An investment in the Fund is not suitable for all investors. Except where otherwise indicated herein, the information provided in this post is based upon matters as they exist as of the date of the post and not as of any future date, and the post will not be updated or otherwise revised to reflect information that subsequently becomes available, or circumstances existing or changes occurring after the date hereof. The post contains forward-looking statements that include statements, express or implied, regarding current expectations, estimates, projections, opinions and beliefs of the Sponsor, as well as the assumptions on which those statements are based. A prospective investor is cautioned not to place undue reliance on any forward-looking statements or examples included herein. No representation is made that the Fund will, or is likely to, achieve its objectives or that any investor will avoid incurring substantial losses. Past performance is no guarantee of future results.