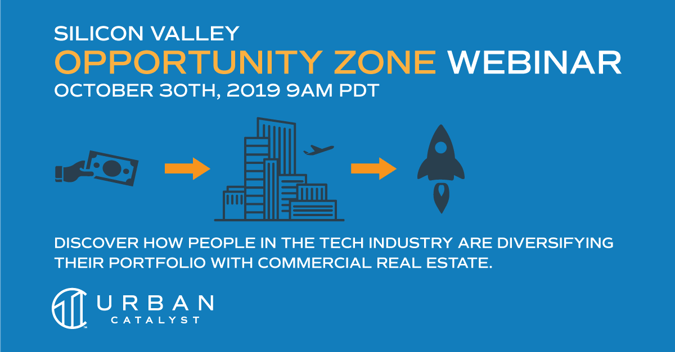 Come join Erik Hayden, the Founder of Urban Catalyst, Silicon Valley's leading Opportunity Zone Fund. Erik will discuss how investing in the Opportunity Zone program works and the potential tax benefits that come along with it. He will also be going over the potential growth of the downtown San Jose Opportunity Zone and how the Silicon Valley tech job engine is migrating to San Jose with the likes of Google, Adobe and many more tech firms.

The timing of the Opportunity Zone program provides choice with the current state of the market. It gives investors from the tech industry a way to diversify their portfolios while simultaneously deferring their capital gains tax. But the clock is ticking for individuals to look into the potential benefits of Opportunity Zone Fund investing, so watch this webinar to determine if this investment may be a fit for your investment goals.

There will also be an open Q&A session after the webinar for any specific questions you may have.
Click here to register for the webinar.
*Consult with your attorney and lawyer and note tax regulations are subject to change
*Diversification does not assure a profit or protect against losses