1031 Exchange VS Opportunity Zone Funds
by Morgan Bernardis, on Aug 1, 2019 4:49:44 PM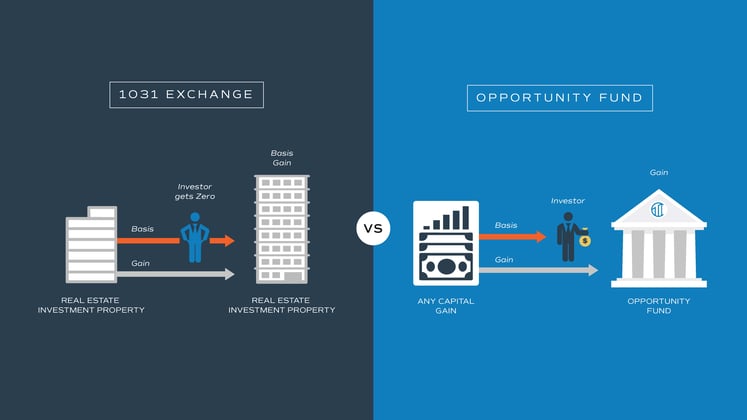 "Why would I choose an opportunity zone fund over a 1031 exchange as a tax deferral mechanism?" This is one of the most common questions we hear in our conversations with interested investors. While both are good solutions to defer capital gains taxes, it is important to understand the nuances between the two options.

The biggest difference between a 1031 exchange and an opportunity zone fund is that when you invest into an opportunity zone fund you are allowed to defer capital gains tax not just for the sale of real estate, but for the sale of a business or the sale of stock. Another important difference is that 1031 exchanges require you to roll your basis and your gain into your new investment, while in an opportunity zone fund you are able to keep your basis and are allowed to invest only the capital gains portion of your investment into an opportunity zone fund.

1031 exchanges and opportunity zone funds are both tax deferral mechanisms. Unlike 1031 exchanges, however, opportunity zone funds can return profits to their investors tax-free if held in the fund for 10 years. 1031 exchanges, by comparison, allow investors to defer capital gains tax but those taxes along with taxes on all future profits will eventually have to be paid.

Opportunity zone funds and 1031 exchanges are different in another important aspect. If you go out in the market to buy a stabilized piece of real estate, you are looking at somewhere between a 4-6 cap rate meaning you can receive about 4-6% year-over-year on your investment. Opportunity zone funds, however, are able to project a significantly higher internal rate of return year-over-year, making it more profitable than the traditional investment into a stabilized asset. Of course, buying a stabilized asset has less risk than ground-up development, but the substantially higher returns created by the opportunity zone fund makes this an obvious choice for investors to consider.

Want to learn more about investing Opportunity Zones Funds? Contact Us today.